PM Lee Hsien Loong at the Official Lunch in honour of Sri Lanka PM Ranil Wickremesinghe
Toast speech by PM Lee Hsien Loong at the Official Lunch in honour of Sri Lanka PM Ranil Wickremesinghe on 18 July 2016.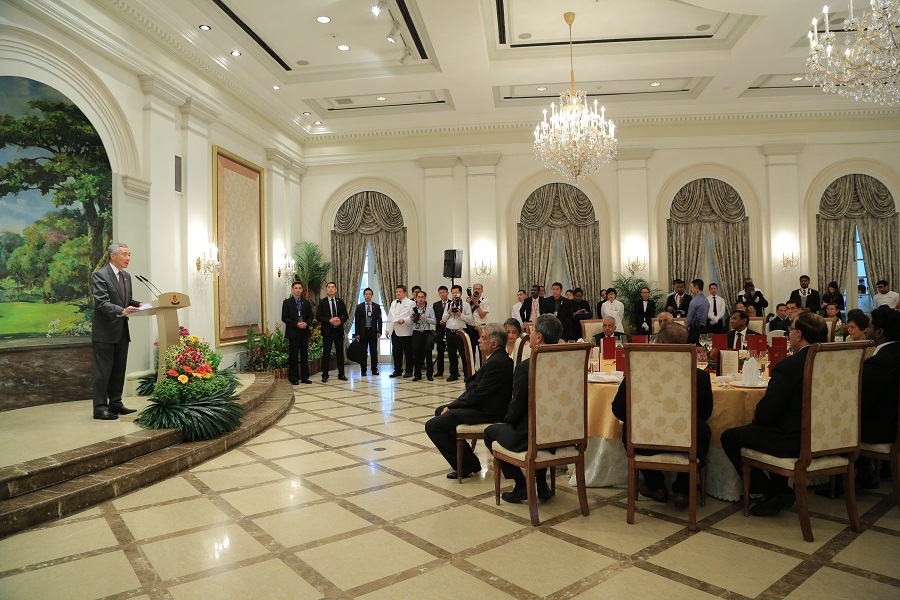 Your Excellency, Prime Minister Wickremesinghe,
Excellencies,
Distinguished Guests,
Ladies and Gentlemen,
I am delighted to welcome Prime Minister and Mrs Wickremesinghe and his delegation to Singapore. The Prime Minister is an old friend of Singapore; he has visited many times. Many of us have had the privilege of getting to know him well during his long political career.
Our two countries share a long history. Since the 19th century, Singapore's small but vibrant Sri Lankan community has contributed significantly to our development. Jaffna Tamils in the Straits Settlements' civil service helped to lay the foundation for Singapore's administrative and government services. And, not so well known but also very interesting is the fact that the Ceylonese Christian clergy played a founding role, establishing Methodist churches and mission schools, in Singapore, like the Methodist Girls' School.
We have had several distinguished leaders in education, in medicine and politics who are of Sri Lankan origin. Our first Foreign Minister Mr S Rajaratnam, Raffles Institution's former Headmaster Mr Eugene Wijeysingha. Even today, Sri Lankans or Singaporeans of Sri Lankan origin continue to contribute richly to our multicultural fabric.
So given our historical linkages, it is not surprising that our relations have been warm, and continue to deepen and grow. Sri Lanka is at a crucial juncture today. The current Government, a coalition between the two main political parties, is bringing about fundamental reforms to the country. The Prime Minister has moved quickly to engage the world, open up to more trade and foreign investment, and promote national reconciliation.
So there is much potential for Singapore-Sri Lanka economic relations to grow. Singaporeans are not new in the Sri Lankan market. One early pioneer was Prima Holdings which has been in Sri Lanka now for almost 40 years. And I am told that they have been there so long that many Sri Lankans even think that Prima is a Sri Lankan company and are surprised to know that it comes from Singapore. So I hope that more Singapore companies will be like Prima and will build long and lasting economic partnerships in Sri Lanka. Today, I am happy to see a surge of interest by other companies in Sri Lanka's growth and its potential. For example, Surbana Jurong now plays an active role, master-planning major development projects in Sri Lanka, such as the Western Region Megapolis and also Trincomalee. We will continue to encourage more business-to-business collaboration and I am glad that today we signed an MOU to launch our FTA negotiations between Singapore and Sri Lanka. When we complete the FTA, it will be a boost to companies on both sides. Because Singapore can serve as the gateway to Asia for Sri Lankan companies, and Sri Lanka to the Indian Ocean region for Singapore companies. I am optimistic with strong political backing, our negotiations will be concluded quickly, and we will be able to witness the signing and to bring it into effect.
Singapore is also happy to play a modest role, supporting Sri Lanka's development and reform agenda. We had a good discussion just now, the Prime Minister shared his many ideas on areas like civil service training, vocational education and urban planning. And we have just signed MOUs in these three areas. So we welcome the opportunities to work more deeply together.
I also hope to build on our long cultural and people-to-people linkages. The cultural cooperation MOU will open up new opportunities for exchanges, especially to tap into Sri Lanka's deep and rich cultural heritage. We are going beyond Colombo, to get to know other cities in Sri Lanka better, like Jaffna. Where our National Library Board has been contributing towards the partial refurbishment of the Jaffna Public Library and to its book collection.
Finally, I would like to thank Prime Minister Wickremesinghe for visiting Singapore and for the valuable exchange of views which we have had. I wish him and Sri Lanka well on the reforms that he is undertaking, and look forward to further strengthening our leadership, our cooperation and friendship. We hope that Singapore will continue to be able to make a contribution, and be a partner in Sri Lanka's development story.
Distinguished guests, ladies and gentlemen, please join me in a toast, to the good health and success of Prime Minister Wickremesinghe and to the enduring friendship between Sri Lanka and Singapore.