Mr Edwin TONG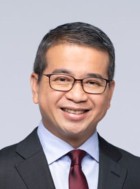 Mr Edwin Tong SC was appointed Minister for Culture, Community and Youth and Second Minister for Law on 27 July 2020. Prior to this, he served as the Senior Minister of State at the Ministry of Law and the Ministry of Health from 1 July 2018 to 26 July 2020.
As the Minister for Culture, Community and Youth, Mr Tong chairs the National Integration Council, the Singapore Cares Steering Committee, the National Youth Council, and the National Steering Committee on Racial and Religious Harmony, driving efforts to build a caring, cohesive and confident society in Singapore. Since November 2020, he also chairs the Chinese Community Liaison Group, which was set up to strengthen Government's relationship with Chinese community organisations and deepen the Government's understanding of the Chinese community.
At the Ministry of Law, he focuses on the development and promotion of Singapore's legal and dispute resolution sector. He also handles wide-ranging aspects of law reform, including intellectual property, corporate restructuring and insolvency, and legal aid.
When he was at the Ministry of Health, he was instrumental in implementing measures to enhance public health, and some examples include the enactment of tobacco-control legislation, and regulations to reduce sugar intake in Singapore, as well as improving the transparency, accountability and certainty of the disciplinary processes for registered medical practitioners, to uphold standards of practice and public confidence in the medical profession.
Before taking office, Mr Tong spent his entire working life at Allen & Gledhill LLP, one of the largest law practices in Singapore, where he practised extensively in corporate and commercial disputes, restructuring and insolvency matters, and international arbitration. In that time, he was concurrently Head of the Restructuring and Corporate Insolvency Department, Co-Head of the Litigation and Dispute Resolution Department, and a member of the Exco. He was widely acknowledged to be a leading lawyer of the Singapore Bar, and was consistently cited and recommended for his expertise in dispute resolution and as a restructuring and insolvency practitioner in various leading international legal publications. In recognition of his advocacy skills, professional standing and extensive knowledge of the law, he was appointed Senior Counsel in 2015.
Mr Tong was first elected into Parliament in 2011, and since 2015, has been the Member of Parliament for the Marine Parade Group Representation Constituency (Joo Chiat Division). Between 2011 and July 2018, he was the Deputy Chairman of the Government Parliamentary Committee for Law and Home Affairs. In March 2018, he was selected to be part of a 10-member Select Committee tasked to look into ways to combat deliberate online falsehoods. He also served on the Board of the Land Transport Authority from 2017 to 2018.
Mr Tong was educated at St Joseph's Institution, Raffles Junior College and later read law at the National University of Singapore.
He has an active interest in football, and served in a volunteer capacity as the Vice President of the Football Association of Singapore from 2013 to 2020.
He is married with three daughters.