Mr LEE Kuan Yew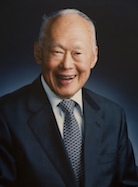 Lee Kuan Yew was born in Singapore in 1923. He was educated at Raffles College, Singapore and Fitzwilliam College, Cambridge, England.
He was called to the Bar, Middle Temple, London, in 1950 and practised law in Singapore. He became advisor to several trade unions.
In 1954, he was a founder of the People's Action Party and was Secretary General up to 1992.
He became Singapore's Prime Minister in 1959, serving successive terms until he resigned in November 1990, when he was appointed Senior Minister by Prime Minister Goh Chok Tong.
He was re-appointed again after the 1991, 1997 and 2001 general elections.
He was appointed Minister Mentor by Prime Minister Lee Hsien Loong in August 2004, and was reappointed again after the 2006 general elections
He stepped down as Minister Mentor in May 2011, and was appointed Senior Advisor to the Government of Singapore Investment Corporation.
Mr Lee passed away on 23 March 2015.
Biodata
Educational Qualifications

1942 - 1945

Raffles Institution, Raffles College, Singapore (Spent Japanese occupation in Singapore)

1946 - 1949

Fitzwilliam, Cambridge, England
Graduated in 1949 with First Class Honours in Law, with a star for distinction in the final examinations (1969 Honorary Fellow)

1946 - 1950

Middle Temple, Barrister-at-Law (1969 Honorary Bencher)
Office-holding Appointments

5 June 1959 -

27 November 1990

Prime Minister

28 November 1990 -

11 August 2004

Senior Minister

12 August 2004 -

20 May 2011

Minister Mentor
Member of Parliament

2 April 1955 -

13 August 1991

Tanjong Pagar

21 August 1991 -

18 April 2011

Tanjong Pagar GRC

27 May 2011 -

23 March 2015

Tanjong Pagar GRC
Career

1951

Advocate & Solicitor. Legal Adviser to several trade unions.

1954

Helped found the People's Action Party (PAP). Became Secretary-General. Held this office, except for brief period in 1957, until November 1992.

1963 - 1965

One of 15 MPs from Singapore in the Parliament of Malaysia from 16 September 1963 until 9 August 1965, when Singapore separated from the Federation.
Awards and Decorations

1967

First Class Order of the Rising Sun, Japan

1970

C.H.

1972

G.C.M.G

1973

Bintang Republik Indonesia Adi Pradana

1982

Freedom of the City of London
1984
The Most Honourable Order of the Crown of Johore, First Class
1990
The Most Esteemed Family Order, DK, Brunei (The Darja Kerabat Laila Utama)
Interests
Cycling and swimming