Ms Indranee THURAI RAJAH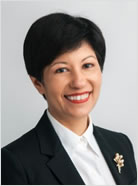 Ms Indranee Rajah is the Minister in the Prime Minister's Office. She is also Second Minister for Finance, and Second Minister for National Development.
Ms Rajah is the Leader of the House for the 14th Parliament. She has been a Member of Parliament for the Tanjong Pagar Group Representation Constituency (GRC) since 2001.
She is a Senior Counsel, and was a practising lawyer before joining Government.
Ms Rajah assists in the oversight of the National Population and Talent Division in the Prime Minister's Office.
Under her Finance portfolio, Ms Rajah is involved in the development of the Government's fiscal policies. She also oversees the:
Professional Services Programme Office (PSPO), to develop and promote the legal and accounting industries in Singapore and

catalyse

the

internationalisation

of such professional services; and

Infrastructure Asia, the Singapore government platform that connects infrastructure demand and supply in the region
As Second Minister for National Development, she is involved in the formulation of Singapore's housing and development polices. She also assists in overseeing:
The Centre for Liveable Cities and the World Cities Summit;

The professional services in the built environment sector;

Review of Singapore's long-term land-use planning for urban development;

Strategies for sustainable housing; and

Policies guiding Singapore's transformation into a City in Nature
Ms Rajah is also involved in the Forward Singapore exercise, as one of the Ministers overseeing the Care pillar. This pillar explores how to enable every Singaporean to lead a dignified and fulfilling life, and to better care for themselves and other around them. Forward Singapore is a collective effort between the Government and Singaporeans, to refresh Singapore's social compact and set out a roadmap for the next decade and beyond.