Mrs Josephine TEO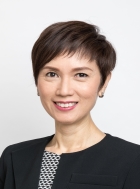 Mrs Josephine Teo was appointed Minister, Ministry of Manpower and Second Minister, Ministry of Home Affairs on 1 May 2018. She also assists Deputy Prime Minister Teo Chee Hean on Population matters. She previously served in the Finance, Transport and Foreign Affairs ministries.

A Member of Parliament since 2006, Mrs Teo was formerly Chairman of the Government Parliamentary Committee for Education and Assistant Secretary-General of the National Trades Union Congress (NTUC). She represented the labour movement on the government-appointed Economic Strategies Committee and co-chaired the sub-committee on Fostering Inclusive Growth. Mrs Teo was concurrently Chief Executive Officer of the not-for-profit organisation Business China, a platform launched by then Minister Mentor Lee Kuan Yew and then China Premier Wen Jiabao to strengthen Singapore's bicultural foundations, and remains as an adviser.

She is married and has three children.